Moroccan Wedding Dress | Morocco Wedding Inspiration
Moroccan weddings are elaborate, colorful and lively events. Traditionally, the Moroccan wedding can last for several days, and there are a number of pre-wedding ceremonies that take place before the actual wedding.
We came across an excellent article, an excerpt of which is below, which illustrates the traditional Moroccan wedding:
Once a date has been set for the wedding, the real preparations begin. Five days before the matrimonial event, necessities such as a mattress and blanket are taken to the bridal chamber. There the bride is given a bath in hammam which is a sort of milk bath that is meant to purify the bride. Her negaffa (female attendants) will usually supervise the event. The negaffa - who are usually older married woman, female friends and relatives - then set about trying to beautify her. After dressing her in an elaborately decorated wedding kaftan they proceed to decorate her with heavy jewelry and darken her eyes with kohl which looks a bit like thick dark eyeliner.

The group then proceeds to have a beberiska ceremony in which the hands and feet of the bride and her party are painted with henna. The bride's designs are always the most intricate and the various floral and geometric designs are meant to ward off evil spirits, bring good luck and increase fertility. The grooms name is often hidden in the henna designs. The negaffa will usually take this opportunity to discuss the 'secrets' of marriage with the young virgin. In some ceremonies the bride will then be placed behind a curtain to symbolize her change of lifestyle. In more remote areas, this ceremony would only take place the day before the wedding. Often, a bride is not expected to do any house work until her henna has faded.

Once all this preparation is complete, food is prepared in excess to cater for unexpected guests and the festivities begin. In times past, the men and woman would celebrate these festivities at separate locations. At some point in the evening, the groom would leave to make his way towards the bridal party accompanied by a group of friends who sing, beat drums and dance. The bride would be lifted up on a circular cushion or table and the groom on the shoulders of his friends. The two would then be carried to the bridal chamber where they would be expected to consummate their marriage. The bridal party would then examine their sheets for signs of blood to confirm the bride's virginity. The two would journey to their new home and the bride would circle her home three times before becoming the keeper of her new hearth.

Today things have changed somewhat. Although the hamman bath is still used quite often in more rural areas, it is sometimes completely overlooked in the cities and towns. And though young brides are still quite happy to don their ceremonial kaftans, these are now more often shop bought because modern machinery has caused hand-made kaftans to be considered an expensive rarity.

Source: http://www.morocco.com/culture/weddings-customs


The Moroccan Inspired Wedding

If you are looking to incorporate a bit of color into your wedding, you could not do wrong then to be inspired by Morocco.

Moroccan Wedding Inspiration Board | Blue Theme


Famous Blue Streets in Morocco Inspire Wedding Blue Theme


Moroccan Wedding Venue Inspired Blue Theme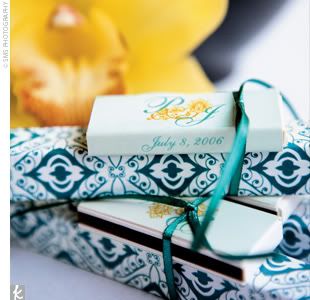 Moroccan Blue Wedding Favors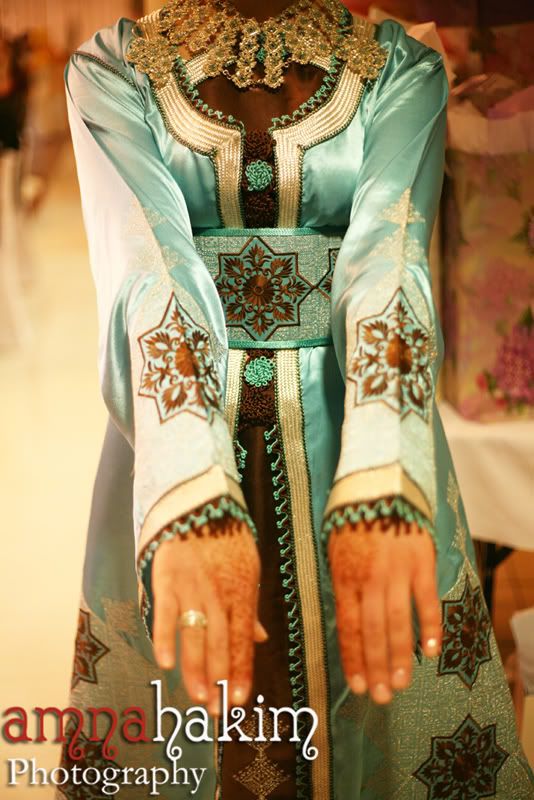 Elaborate Moroccan Wedding Kaftan
Source: http://amnahakim.com/blog/archives/1498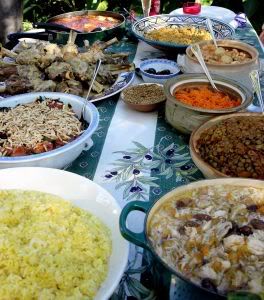 Moroccan Wedding Feast - Blue Traditional Serving Plates


Labels: Moroccan Wedding Caftan, Wedding Inspirations, Wedding Kaftan
Featured Offer from Nina at India Wedding Designs:
Sign-Up For 21 Wedding Tips
Includes the following Topics!

Something Every Bride-to-Be Needs to Know
How To Survive (and Enjoy) Your Wedding Day
The Real Secret to Choosing Colors for Your Wedding Dress
Adapt the Latest Bridal Dress Fashions To Your Figure Type
Bridal Hairstyle Looks That Would Suit You Best
How to Avoid Bridal Make-up Disasters
The Wedding Make-Up Tip for Indians that is Almost Too Easy
For Radiant Skin, These Facial Methods Work Like Crazy
The Biggest Mistake Brides Make (and How to Avoid It)
The Best Way I Know to Get a Honeymoon Trip, Even When Your Budget Doesn't Allow It.