Islamic Fashion for Muslim Brides | Picking A Wedding Dress
Tips on Picking out an Islamic Wedding Dress
Picking your Islamic wedding dress can be a tough thing to do. You want to look good and you want to look trendy and stylish, yet not over the top. One important thing to keep in mind, is not to be a slave to fashion. You have to know what you look best in - stick with what you are comfortable with, fabrics that you love, the colors that you love. It may be your wedding dress, and you may want to try something new and different. But that is a risk to take - you may not win!
A piece of advice to keep in mind - go through your old photographs and decide which outfits (shape and style) and colors suited you the best. Then with that information in hand, you should browse around websites, magazines and stores to see what fits with the image you have in mind of what you look great in.
Most brides find it difficult to find the exact wedding dress they want in the stores. Many opt to hire a tailor to sew the dress for them. I think this is the best option because you can incorporate your sense of style into the wedding dress.
Before you visit the tailor, sketch out a simple design of the wedding dress you have in mind. Never mind if you are a lousy drawer! Bring cut-outs of pictures if you need to.
At your tailor's, you should talk the design over with her. Schedule several fittings because there will be alterations to the wedding dress anyway.
Stylish and Trendy Ideas for Islamic Fashion Wedding Dress
Wedding Dresses in Color!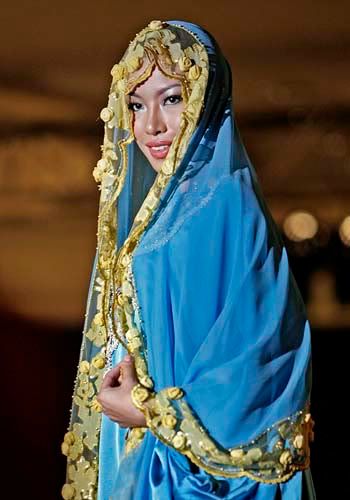 Labels: Islamic Fashion, Nikkah Dress, Wedding Dress, Wedding Gowns
Featured Offer from Nina at India Wedding Designs:
Sign-Up For 21 Wedding Tips
Includes the following Topics!

Something Every Bride-to-Be Needs to Know
How To Survive (and Enjoy) Your Wedding Day
The Real Secret to Choosing Colors for Your Wedding Dress
Adapt the Latest Bridal Dress Fashions To Your Figure Type
Bridal Hairstyle Looks That Would Suit You Best
How to Avoid Bridal Make-up Disasters
The Wedding Make-Up Tip for Indians that is Almost Too Easy
For Radiant Skin, These Facial Methods Work Like Crazy
The Biggest Mistake Brides Make (and How to Avoid It)
The Best Way I Know to Get a Honeymoon Trip, Even When Your Budget Doesn't Allow It.