Islamic Fashion Abayas To Wear at Weddings
We have been focusing on bridal wedding islamic fashions for some time now. It is time to focus on islamic fashion styles for women attending weddings! All women love to dress up for wedding, even if they are not the brides! :) So today's article will focus on simple yet elegant islamic fashion
abayas
that are suitable for wearing to a Muslim wedding.
What is an abaya?
The Abaya is simply a long garment (outer dress or overgarment)that is supposed to cover most of a woman's body except for the face, hands and feet. The traditional significance of the abaya is to maintain a woman's modesty in fashion and clothing in keeping with Islamic decorum and rules on dressing.
The abaya is considered the national dress of Muslim women in Muslim countries in the Gulf.
Most of the traditional Abayas are in black color. Abayas are draped over the shoulders or head and can be worn with a
niqab
, which is a face veil to cover the face partially except for the eyes.
Elegant Islamic Fashion Abaya in Black
While many Muslim women from other countries love to dress in a myriad of colors when they step out of the house, the black abaya is strongly favored by Gulf Muslim women, perhaps due to strong cultural and historical influences.
If you would like to try on an abaya when attending the next wedding of a relative or a friend, here are some fabulous designs by a Dubai designer to inspire you. These graceful, feminine flowing outfits are very becoming.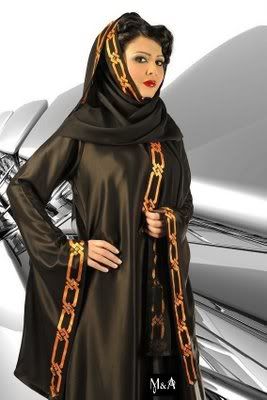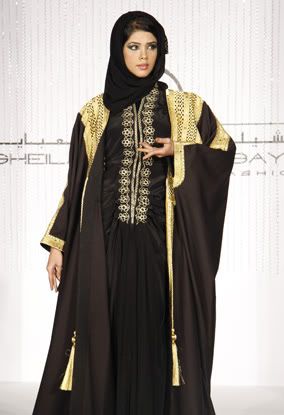 Labels: Abaya, Islamic Fashion
Featured Offer from Nina at India Wedding Designs:
Sign-Up For 21 Wedding Tips
Includes the following Topics!

Something Every Bride-to-Be Needs to Know
How To Survive (and Enjoy) Your Wedding Day
The Real Secret to Choosing Colors for Your Wedding Dress
Adapt the Latest Bridal Dress Fashions To Your Figure Type
Bridal Hairstyle Looks That Would Suit You Best
How to Avoid Bridal Make-up Disasters
The Wedding Make-Up Tip for Indians that is Almost Too Easy
For Radiant Skin, These Facial Methods Work Like Crazy
The Biggest Mistake Brides Make (and How to Avoid It)
The Best Way I Know to Get a Honeymoon Trip, Even When Your Budget Doesn't Allow It.